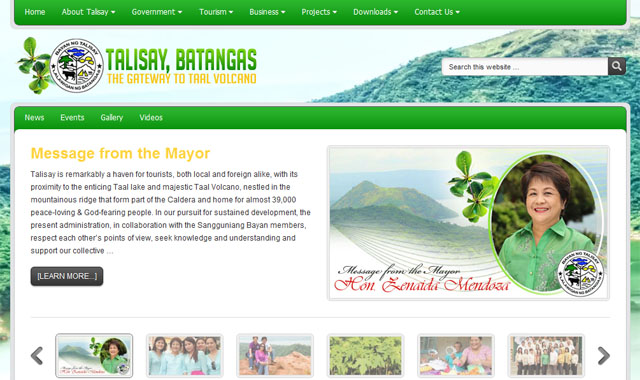 "We really need to educate the public about Taal Volcano. Hindi sya bahagi ng nasasakupan ng Tagaytay or Cavite… Ang bulkang Taal ay bahagi ng Batangas and Talisay is the nearest gateway to Taal volcano island," expressed Ms. Len Barba, Tourism Officer of Talisay, Batangas.
This is one of the major reasons why Talisay local government opted to go online and have a website for the town. With this reason in mind, our team injected some online marketing techniques in developing the official website of Talisay, Batangas.
Though SEO or search engine marketing is not part of the website package that they availed, LikhaInternet Team still included some contents that would help Talisay's online searchability. At any rate, Ms. Len and the rest of Talisay Tourism Department people were very friendly and cooperative. In fact, they even treated the whole team to a one-of–a-kind adventure trip to Taal volcano Island (guess, we're just returning the favor).
www.talisaybatangas.gov.ph, another website project of LikhaInternet Inc., has truly helped Talisay in (1) informing the public that Taal Volcano in Batangas and not in Tagaytay, (2) promoting Talisay
as the gateway to Taal Volcano island, (3) showcasing their local festivities like karakol and Punlad Festival, (4) providing relevant information about Talisay local government like contacts, departments,
officials and the likes, and (5) updating everyone of latest activities and projects initiated by Talisay local
government.
So if you're looking for website developer or designer for your town or city, don't think twice to get our service. When it comes to website and online marketing, it's always LikhaInternet Inc.