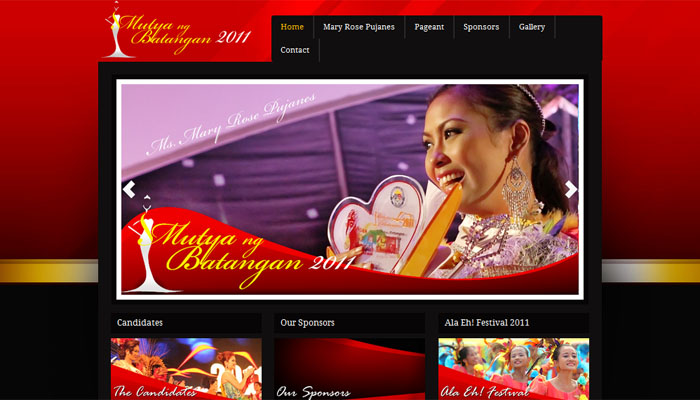 A beauty queen should have both substance and form. The same goes for a beauty pageant website.
The search for Mutya ng Batangan 2011 was among the much-awaited events in the celebration of Ala Eh! Festival. The most prestigious pageant in the province was meant to look for the next Ambassadress of Goodwill of Batangas. So a space to present all the candidates and make them be known all throughout the province was deemed necessary.
That is why www.mutyangbatangan.com was born. This is where the photos, profiles, press releases, and schedules of the candidates were published. This is a venue for the public to show their support for their municipality or city's candidate.
The team was privileged to, for two years in a row, manage the official website of Mutya ng Batangan pageant. The website for 2011′s search was bold yet simple. It loud red complement the elegant black and the sophisticated yellow gold on the footer.
The images should also be well displayed to avoid clutter on the interface especially in the home page. And because it should reflect both substance and form, the Mutya ng Batangan website was also filled with news and updates to update the public with what's happening with the candidates.
With huge events such as the Mutya ng Batangan pageant, a website is a good tool to promote and create hype among the supporting public.