June 6, 2011 – Pork Adobo
Pork Adobo is one of the popular dish in the Philippines, a dish which is marinated in a sauce of vinigar, garlic and soy sauce. The taste of this adobo really fits on Filipino taste.
Basic ingredients: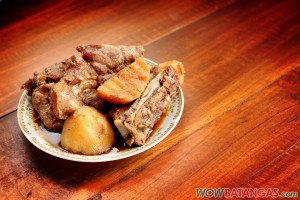 kilo pork;
head garlic; pounded
dried bay leaves
tablespoon peppercorns
tablespoons soy sauce
tablespoons vinegar
Cooking oil
Potato
June 7, 2011 – Pininyahang Manok/ Pineapple Chicken
Our very delicious lunch for today, Pininyahang Manok or the Pineapple Chicken. Pininyahang Manok is a chicken dish marinated with pineapple juice which makes the dish flavorful and there is also pineapple chunks mixed in the dish.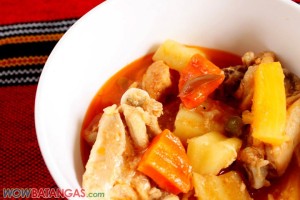 Main ingredients:
Chicken cut into serving pcs.
vegetable oil
pineapple chunks
garlic
sliced tomato
sliced onion
coconut cream
potato
carrots
chicken cube
June 8, 2011 – Sinigang na Baboy
Sinigang na Baboy is a typical filipino dish and can be served during Lunch and Dinner.  Best in cool season.
Main Ingredients:
Pork
Garlic
Onion
Tomato
Gabi/Raddish
Sitaw
Labanos
Mustard Leaves
Fish Sauce
Salt
Cooking Oil
Water
June 14, 2011 –  Tinolang Manok (Chicken Ginger Stew)
One of the famous and facorite dishes in the Philippines, Tinolang Manok. Once you smell the ginger on it you can't resist it,and when someone smells it they would stop by because of its smell.
Main Ingredients: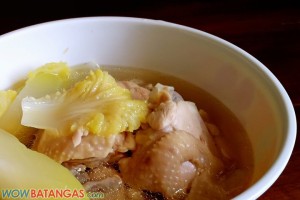 2 tbsp olive oil
5 garlic cloves, minced
1 inch bruised ginger
1 small onion
2 lbs cut up chicken
2 tsp fish sauce
1 tsp black pepper
5 cups water
8 oz chayote (or green papaya or zucchini)
2 cups spinach leaves (stems removed)
June 15,2011 – Pork Adobo
Another pork adobo recipe but now without potato only onions.
Ingredients: